You can easily enjoy Calm Radio on an Apple iPhone or iPad with an IOS of 9.3.5 and higher.
How do I get the Calm Radio app on my iPhone/iPad?
How do I log in to Calm Radio and play channels on my iPhone/iPad?
How do I add a song or channel to my favourites?
What other features are available to me from my iPhone/iPad?
How do I access my account settings on my iPhone/iPad?
How do I use the multimixer feature on my iPhone/iPad?
How do I get the Calm Radio app on my iPhone/iPad?
Download our free Apple iOS app from the Apple App Store. (Search "Calm Radio")
(App looks like the icon below)

How do I log in to Calm Radio and play channels on my iPhone/iPad?
Open the CALM RADIO from your device's home screen
Sign in, or Sign up for an account (Press Sign In / Sign Up)
The app will start on the home screen, where you can select a channel for playback or see your favourite channels (or you can go to the MUSIC menu).
Swipe up or down to see available categories, and swipe left or right to view available channels.

Select any channel to start playing.

You will be taken to the NOW PLAYING section. You can tap the album cover to see the song information at any time.
Add to "Favorites"
Use the "heart" icon in the top right corner to add the currently playing channel to your Favorites sub-section in the MUSIC menu, for easy recall of your favorites
Other features
Sleep / Wake Timer

AirPlay / Chromecast(see below)

Similar to using Bluetooth, AirPlay will connect any AirPlay-enabled devices when in-range.

For using AirPlay, please visit our Airplay support page here : AIRPLAY-CALM RADIO

For using Chromecast, please visit our Chromecast support page here : CHROMECAST-CALM RADIO

Share currently playing song

Equalizer-customize your sound

Background image/video selector - set the background to a wide array of stunning videos/images while you play.
Main Settings/Account Menu
Pressing the "More" menu will bring you to the MAIN SETTINGS/ACCOUNT menu, letting you:
Edit your Account Details or reset your password
Pick an Equalizer to customize your sound
Access the SETTINGS menu, enabling you to

select bitrate (for slower connections)
select Direct or PORT 80 streams (Port 80 streams are for playback behind firewalls)
Streaming WiFi only selector (Play only while on Wifi network, to conserve cellular data)
the option to RESTORE IN-APP PURCHASE - If you don't see your in-app purchases. (If you restored from a backup, or you deleted and reinstalled an app that you've made in-app purchases for.)
Language selection
Compatibility Fixes ( try this to fix playback issues-only for >= iOS 12.2 )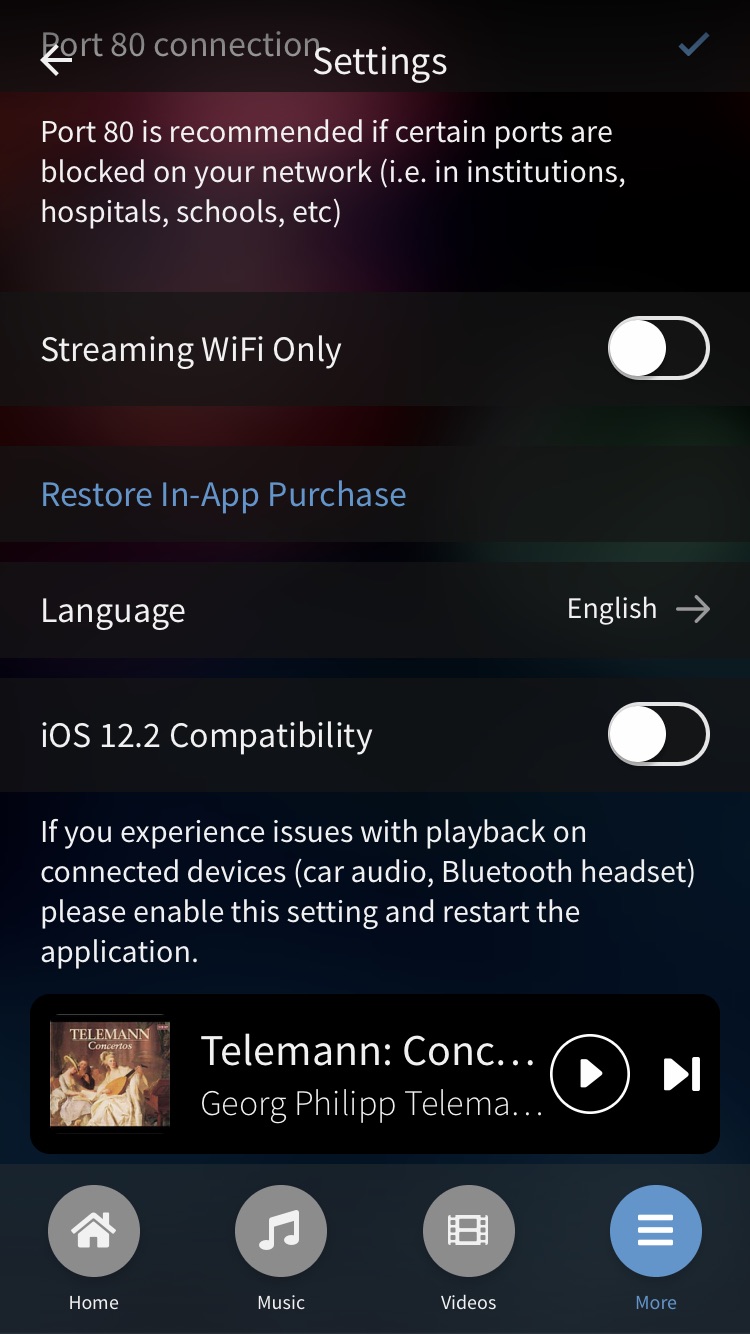 Adding Nature Sounds (Multimixer)
Let your creative instincts paint your own Multimix. Try adding different tonalities, high and low, for example add some Birds for the high frequencies, Whales for the middle frequency spectrum. Or try designing an "Outer Space" environment, using Earth, Delta Waves and Submarine. Your imagination is the limit!
Start playing a channel
Click on the plus (+) icon on the bottom left (#4 in the above picture)
Choose a layer (up to 3 layers can be mixed)
The chosen layer will start playing alongside the music, and the (+) icon will change into a number from 1 to 3 indicating how many layers are also playing
Adjust the volume faders (sliders) of each layer to taste
Continue to add more layers (Nature Channels) and have fun!
To remove a layer:
Click the plus (+) symbol (which will now have a number between 1 and 3 on it) while playing your music, and you will see the layers also playing
Go to the layer to remove, and click the "X" symbol that appears to the right of the layer, to remove it